ORIGINS OF THE FIRST HAMMOCK
ORIGINS OF THE FIRST HAMMOCK
By: Freakytiki2Memoirs Of A Hammock Weaver 0 Comments May 10, 2016
I invented the Original Rope Hammock many years agoeven though some doubt the origins of the first hammock Some credit the Aztecs, some credit the South and central Americans for invented today's rope hammock..but no it was me. As strange as it seems , you are about to learn about the real and honest origins of the rope hammock.
The First Hammock is Conceived
Many years ago the first hammock is comceived as I had gone to hear a sermon by the sea of Galilee and believe me they were not any fancy rope hammocks around. Anyway back to the history of the Rope Hammock…I had gone to the sea to hear this carpenter talk about peace love and happiness..come to think about it, he sound a lot like today's modern hippie,but that is another story altogether. I was started to get a little hungry and that carpenter had been breaking bread and pulling sushi from his basket all day. I was in need of a little rest and relaxation.Now this is where I got the idea for that first Blue Hammock. Having a full stomach and nowhere to lay down but some sand and a bit of grass I started thinking. On the way in I saw a few roman soldiers putting some crosses in the sand and stringing some poor peasants for stealing food. AND THEN IT HIT ME ,I grabbed a fisherman's net, a little rope for Hanging Kit strung it up between the 2 crosses and off I was..in that beautiful thing I called fisherman's net between 2 crosses that I later shortened to a rope hammock. Well by the time I woke everyone had gathered around me wanting to know where they could get a hammocks on sale and I went into business at Salt & Asphalt and have been working ever since.
AND THEN THERE IS THIS STORY(kinda hard to believe)
It was another muggy Lowcountry night a whole lot of years ago…
…and weary riverboat captain Joshua John Ward found himself frustrated once more, failing yet again to get a peaceful night's sleep. "Cap'n Josh," as he was widely known, ferried rice and other cargo from South Carolina's inland plantations to port in coastal Georgetown, just south of his home in the popular resort town of Pawleys Island. So he spent a lot of nights out on the water, and the grass-filled mattresses common on working boats back then only seemed to amplify the steamy summer heat.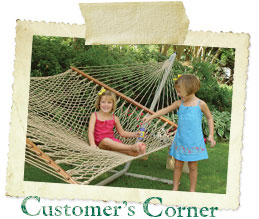 ---
Out of desperation, Cap'n Josh figured he'd give sleeping in a hammock a try, though that option didn't bode much better for him, as he was certainly well aware.
By Cap'n Josh's time in the late 1800s, sailors had already been using hammocks for beds at least since the days of Columbus (who often gets credit for "discovering" the hammock, too, after taking a load of New World hammocks back home with him to Europe). First the British Navy had adopted the practice, followed by many European and American commercial ships and, later, the United States Navy as well. However, those hammocks were small, hard to get into, cramped and prone to tipping.
They were also made from canvas, which meant they felt rough, and were hot – sweaty hot. Some improvement.
So Cap'n Josh's mind soon gravitated instead to rope hammocks, which he figured had to allow more air circulation around a sleeper's body, and thus cooler sleeping. However, rope-hammock design of his time produced something that was likewise coarse against the skin, and also wasn't all that sturdy. Not to mention it had bulky knots tied throughout.
Nineteenth-century rope hammocks were, to put it mildly, uncomfortable for sleeping – and could lead to a very rude awakening if the poor-quality hemp or manila rope common back then ever gave way.
So Cap'n Josh began some experimenting, bent on creating a strong rope hammock that didn't require knots in the hammock body, and one that was wide enough for more stable, more peaceful rest. It took him several tries before he hit upon his winning formula: heavy cotton rope in a double-latch weave, where individual ropes pull against each other to produce a lattice-like design.
But the enterprising riverboat captain's greatest contribution to the art of hammock-making has to be his invention of the spreader bar. Cap'n Josh took staves – that is, slats – from wooden oak storage barrels and sawed them to his selected size, boring holes in them at equal distances apart. He then fed the rope ends from a standard mariner's clew knot through the newly bored holes, tying each threaded rope to a looped end of his woven hammock bed. This way, the only knots were away from the hammock bed itself.
The two spreader bars held the hammock bed wide, the cotton made it soft and the heavy rope and double-latch weave kept it strong and secure.
There's no record of how Cap'n Josh's sleeping changed following his handcrafted success in hammock-making. But we're pretty confident things improved dramatically for him, since the Original Pawleys Island Rope Hammock is not only still with us to this day, but is now possibly the best-known hammock brand in history, long ago having become the template for the classic American hammock style.
Other than some improvements in materials through the years, the basic design of today's Pawleys Island Original is truly little changed from the time of Cap'n Josh. We're indebted to him for getting it right to start with, and we feel honor-bound to carry on his exceptional tradition of craftsmanship and quality.
The Original Hammock Shop, begun in 1935 by Cap'n Josh's immediate family to better market the hammocks they were already selling, is still going strong today along the main road through Pawleys Island, South Carolina. When the shop first opened, it was among the only businesses in the sleepy Southern seaside town. The rope bodies of many Original Pawleys Island Hammocks available there are still woven right onsite; however, before one of our hammocks is complete, it must also be fitted with spreader bars (today we use lovely varnished white oak), a hand-woven clew knot (the attractive rope triangle at both ends of most hammocks) with a spray of harness ropes, and weather-tough hanging chains and O-rings (ours are among the heaviest, and safest, in the industry). Each hammock must then pass a final physical inspection at our coastal Carolina workshop to ensure strength and quality.
And that's as it should be. Because if today's Original Pawleys Island Rope Hammocks didn't live up to Cap'n Josh's own incomparable tradition, we'd be losing a lot more sleep than our ferry-boating founder ever did before inventing the modern relaxation standard more than 125 years ago.